Los Angeles Porcelain Veneers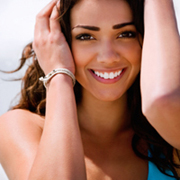 Porcelain veneers can be used to transform your smile from drab, dingy, dull and damaged to bright, brilliant and beautiful. If your teeth are chipped, stained, discolored, cracked, crooked, misshapen or have other cosmetic issues, our Los Angeles porcelain veneers dentist can help.


Your teeth can again shine brightly, and you can once again be happy with your smile. Our Los Angeles porcelain veneers dentist will help you consider your options. If you are a candidate for porcelain veneers, your teeth will first need to be prepared, which means some of the enamel will need to be trimmed away. Dental impressions will then be taken. These impressions are sent to a dental laboratory, which will fabricate your new smile using strong ceramics. You may have temporary veneers placed on your teeth to reduce the risk of sensitivity and to immediately improve your appearance. Once your veneers have been crafted, the wafer-thin porcelain shells will be bonded to your prepared teeth.


Porcelain veneers are strong and stain resistant. Your beautiful new smile will be easy to maintain, too. Our Los Angeles porcelain veneers dentist may recommend using non-abrasive fluoride toothpaste, a soft-bristled toothbrush and brushing twice daily or after meals. Flossing daily is also essential to maintaining good dental health. Those who grind their teeth may need to wear night guards to protect their veneers and their teeth from damage.


Not all patients are candidates for porcelain veneers. If your teeth are seriously misaligned, you may need significant shaping in order to ensure attractive results. In some cases, orthodontics, teeth whitening and porcelain veneers may be combined to provide you with the best results possible.
Our Los Angeles porcelain veneers dentist recommends porcelain veneers for those who are unhappy with their smiles due to worn enamel or other aesthetic issues. You may have veneers applied on their own or as part of a smile makeover. Your new porcelain veneers can last decades if properly maintained.


Give us a call today to discover your options for a more attractive smile or to schedule a consultation with our dentist.

Back to Articles