What are Porcelain Veneers?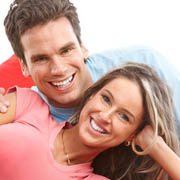 What are porcelain veneers? If your teeth have suffered any cosmetic damage, your might hear your dentist bring up numerous restoration options to repair the damage, including veneers. Porcelain veneers are wafer-thin, custom made shells made out of porcelain that are designed to cover the surface of your teeth to improve their appearance. The shells will be bonded directly to your teeth to improve their color, size, shape, and length. The reason why porcelain is often preferred over composite resin is because porcelain is much more resistant to staining.
Before your veneers can be placed, you will need to schedule a consultation with our Los Angeles porcelain veneers dentist. During this appointment, our dentist will examine your smile to see what exactly the damage is and which restoration is best suited for your needs. This is also the time where you can ask our dentist questions like, "What are porcelain veneers?" and "How much will they cost?" There are several reasons why porcelain veneers would be suggested, including:
• Teeth that have been discolored as a result of a root canal treatment or excessive fluoride use
• Teeth that have been severely worn down
• Chipped or broken teeth
• Teeth that are misaligned, uneven, or irregularly shaped
• Teeth with gaps between them
Prior to getting the veneers placed, we will need to trim down some of your natural enamel. This is done so that the veneers will not appear bulgy. Impressions will be taken of your teeth so that the veneers can be designed, and we will place temporary veneers on your teeth until the permanent ones are ready.
Special cement is applied to your teeth so that the veneers will stay in place. Once the veneers are in position, our dentist will shine a special light onto them to harden the adhesive. Once the cement has hardened, our dentist will remove any excess cement and make sure it is the right shape and size. Any minor alterations will be made for the perfect end result. If you are still asking yourself, "What are porcelain veneers?" talk to our dentist who can go into the process more in-depth with you.
Back to Blog